I have a new post series; Autumn/ Winter 2012 trend. I mostly do beauty related posts but I really interested in fashion too and I thought I would do a few posts on what sort of thing I'm really liking this season. There are two parts to these posts- I'll post some examples of the trend on the catwalk then how I would wear it.
In days gone by purple was a colour reserved only for the elite, wealthy and was worn as a sign of royalty and nobility. However, this season it seems to be everywhere; from eyelids to ballgowns.
Gucci A/W 12 - Milan Fashion Week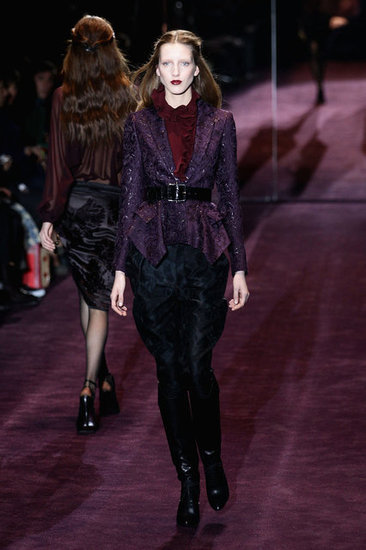 Autumn/ Winter 2012 Runway
Photos linked to original source
I think its best to stick to one statement purple piece, then incorporate neutral colours (like cosy woolies) and I also like the mustard bag as it goes really well with purple since they're on oposite ends of the colour spectrum.
I actually have a lot of purple, so I am looking forward to wearing it a lot this autumn/ winter. I love that because its just a colour you can wear it however you want, making your statement bold or simple. For example, you can switch up your school or work wardrobe with it:
Oh man what is with the bad quality?
Do you like this trend? How will you be styling it this season?