I have a new post series; Autumn/ Winter 2012 trend. I mostly do beauty related posts but I really interested in fashion too and I thought I would do a few posts on what sort of thing I'm really liking this season. There are two parts to these posts- I'll post some examples of the trend on the catwalk then how I would wear it.
The Peplum is the flared ruffle over the waistline of a blouse, skirt or dress. It took off this Spring and seems to have been seen everywhere since. It defines your waist and creates the illusion of the perfect hourglass figure. It is therefore great news for all that the peplum trend is rolling over into Autumn and Winter too.
Moschino A/W 12 - Milan Fashion Week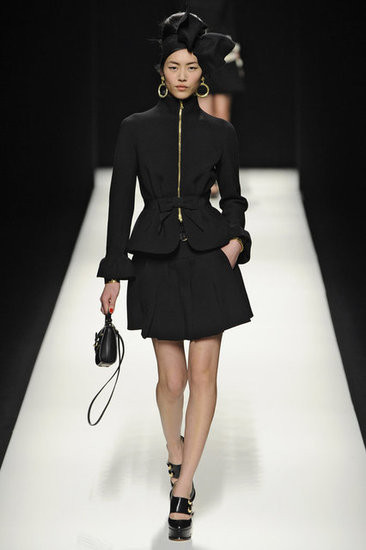 Photos linked to their original source
I think its really easy when wearing peplums to look like you've came straight from work, so I would try to make it a bit more casual.
To be honest, I wasn't very into the peplum trend till recently but now I really like it and I am seriously considering getting one. I tried this on today in Primark, what do you think?
Let me know if you like this type of post and would like to hear more of my take on this seasons trends.